Prositions to Host Author Taylor Scott at the 2021 ATD Conference
Prositions will host, best-selling author and consultant, Taylor Scott at the 2021 International Conference & Exposition for the Association for Talent Development (ATD) in Salt Lake City, UT in August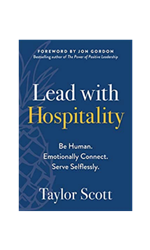 Discover how the best leaders transform jobs into meaningful work by leading with hospitality!
"Before anyone becomes motivated to DO anything, they must first FEEL something."Taylor ScottAuthor of "Lead with Hospitality"
DES MOINES, IOWA (PRWEB) AUGUST 30, 2021
Prositions, Inc. the leading microlearning producer and training content distributor, will be unveiling a number of new training programs at the Association for Talent Development (ATD) 2021 Conference & Exposition August 30th – September 1st in Salt Lake City, UT. There will be designated times when author Taylor Scott will be meeting expo attendees at Prositions' booth #410.
Taylor is a best-selling author, inspirational keynote speaker, and organizational development consultant. Taylor's mission is to teach and coach leaders and executives how to lead with hospitality, ultimately making others feel welcome, comfortable, and important. He believes before anyone becomes motivated to DO anything, they must first FEEL something.
"We are so excited to have Taylor at our booth this year," stated Jill Dillenburg, Vice President of Sales and Marketing at Prositions, Inc. "We encourage participants to stop by and chat with Taylor, get a signed copy of his best-selling book, Lead with Hospitality, and preview his latest microlearning products on our learning platform, DashTrain."
DashTrain is an award-winning microlearning platform that is compatible with desktop, laptop, tablet, and smartphone devices. Because of its mobile-first design, it makes learning content extremely convenient and accessible to employees who work in the field, on the production floor, or who are difficult to reach with traditional training delivery approaches. Additionally, by giving learners accurate information and answers at their fingertips, organizations can save thousands of dollars by reducing the time employees spend searching online or internally for job-related answers and information. DashTrain is also compatible with most learning management systems and the content can be hosted by the client.
"ATD is going to be very exciting this year," shared Taylor Scott, "I am so pleased to be partnering with Prositions and to be included on the DashTrain platform", he continued. "My content has been designed to be delivered in short microvideo modules and the DashTrain platform is the perfect technology solution because of its cutting-edge design. My course can also be delivered in a classroom, virtual, or hybrid model."
A selection of Prositions' other newly released microlearning programs featuring best-selling authors will be available to preview at booth #410 including:
Getting Real About Workplace Violence 2021 – with Jim Sporleder
The Rules Have Changed – Learn How to be an Ally Against Racism with Liz Nead
The Virtual Adventure – How to Work Remotely with Liz Nead
Meditation – How to Relax and Reduce Stress with Kirk Lautensleger
The Reflective Listening Skill – How to Become a Better Listener with Ross Blake
About Prositions
Prositions, Inc. is a leading provider of learning content and performance support libraries and offers a complete range of consulting, software, and service solutions. DashTrain, their mobile-first application, contains the largest library of over 7,000 microvideo and audio learning bites that enable organizations to give their employees instant access to the world's leading "how-to" business libraries and best-selling authors, anywhere and at anytime. For more information about Prositions, visit https://www.prositions.com
About Taylor Scott
Taylor Scott is a best-selling author, inspirational keynote speaker, and organizational development consultant. Through his books, workshops, keynotes, and one-on-one coaching, he inspires audiences at Fortune 500 companies, universities, and community organizations nationwide to become their best, deliver their best, and experience the best life possible. Taylor leverages his personal experiences and twenty years working in the hospitality industry for organizations like Disney Parks and Resorts, Gaylord Hotels and Resorts, Wynn Resorts, and The Cosmopolitan of Las Vegas to connect with and inspire leaders at all levels.
The ATD 2021 International Conference & Exposition is the largest event for talent development professionals worldwide. It provides attendees with the knowledge, strategies, and solutions needed to effectively train and develop talent. Top highlights include insights into the latest trends, best practices, and new solutions for designing, delivering, implementing, and measuring learning programs. For more information about the 2021 ATD conference in Salt Lake City, UT visit https://atdconference.td.org/welcome.